(Forum Replay at the end of this page)
On Dec. 3rd, 2022, the Architecture Asia Forum Series: Thailand Contemporary Architecture Forum was successfully held online.
---
Since 2020 when the Architectural Society of China (ASC) and Tongji University undertook the editing work as the co-publishers of Architecture Asia, the journal has realized a transformation from a traditional printed publication to a new media platform. The Tongji editorial team strengthens the journal's international reputation by upgrading the issue framework, building the website and social media platform, and opening global subscription and selling channels.
Architecture Asia will build an eco-chain of "project display+ academic discussion", and develop approaches beyond publications, to reveal contemporary architectural development in Asia, promote regional interaction between ARCASIA member institutes, and enhance professional communications between Asia and the world.
In 2023, Architecture Asia will launch an issues series of contemporary architecture in Asian countries or regions where the ARCASIA member institutes locate. Architecture Asia Forum Series will be organized on related topics to inspire a broader discussion and international publicity.
---
"Thailand Contemporary Architecture" Forum is the first event of Architecture Asia Forum Series, co-hosted by Architecture Asia and the Association of Siamese Architects under Royal Patronage (ASA), with the full support of ARCASIA and ASC, aiming to express the new tendency of Thailand contemporary architecture.
Thailand architects Jenchieh Hung and Kulthida Songkittipakdee were the convenors of this forum. 10 groups of Thailand pioneer architects delivered impressive speeches and showed their design projects, and 5 scholars and architects from Asia and Europe involved in the panel discussion shared their viewpoints. The forum lasted about 5 hours and was open to global audiences through the free online livestream, attracting nearly 5000 online attendees.

△ Group Photo of the Online Forum
---
Opening Address
The forum started online at 1:00 pm (Beijing Time). Ar. Dr. Abu Sayeed M. Ahmed, the president of ARCASIA, Ar. Chana Sumpalung, the president of ASA, and Professor Wu Jiang, editor-in-chief of Architecture Asia, delivered opening addresses successively. Associate Professor Zhou Minghao, the managing editor, and Assistant Professor Wang Yanze, the executive editor, were moderators.

△ Abu Sayeed M. Ahmed
President, Architects Regional Council Asia (ARCASIA)
Dean, Faculty of Environmental Science and Design, University of Asia Pacific, Dhaka

△ Chana Sumpalung
President, The Association of Siamese Architects under Royal Patronage (ASA)
Managing Director of Architect 49 (Phuket)
Deputy Managing Director of Architects 49 House Design

△ WU Jiang
Editor-in-Chief, Architecture Asia
Past Vice President, Zone C, ARCASIA
Professor, College of Architecture and Urban Planning, Tongji University
Standing Council Member of the Architectural Society of China
---
Speeches
In the session of Speeches, 10 group Thailand architects of HAS design and research, Architects 49, Vin Varavarn Architects, Stu/D/O Architects, Patchara + Ornnicha Architecture, Department of ARCHITECTURE, Sher Maker, IDIN Architects, EKAR Architects, and Plan Architect, by sharing their design projects, expressed current situations and tendency of contemporary architecture in Thailand, from the perspectives of climate adaptation, local materials, traditional craftsmanship, community integration, performance-driven, ecological adaptability and high-density construction.

△ Jenchieh Hung & Kulthida Songkittipakdee
HAS design and research
Architectural Identity and Cultural Derivative

△ Narongwit Areemit
Architects 49
Data Driven Architecture

△ Varudh Varavarn
Vin Varavarn Architects
The Possibilities of Transformation

△ Apichart Srirojanapinyo & Chanasit Cholasuek
Stu/D/O Architects
Change and Continuity

△ Patchara Wongboonsin & Ornnicha Duriyaprapan
Patchara + Ornnicha Architecture
The Dialogues around Architecture

△ Amata Luphaiboon & Twitee Vajrabhaya
Department of ARCHITECTURE
Department of ARCHITECTURE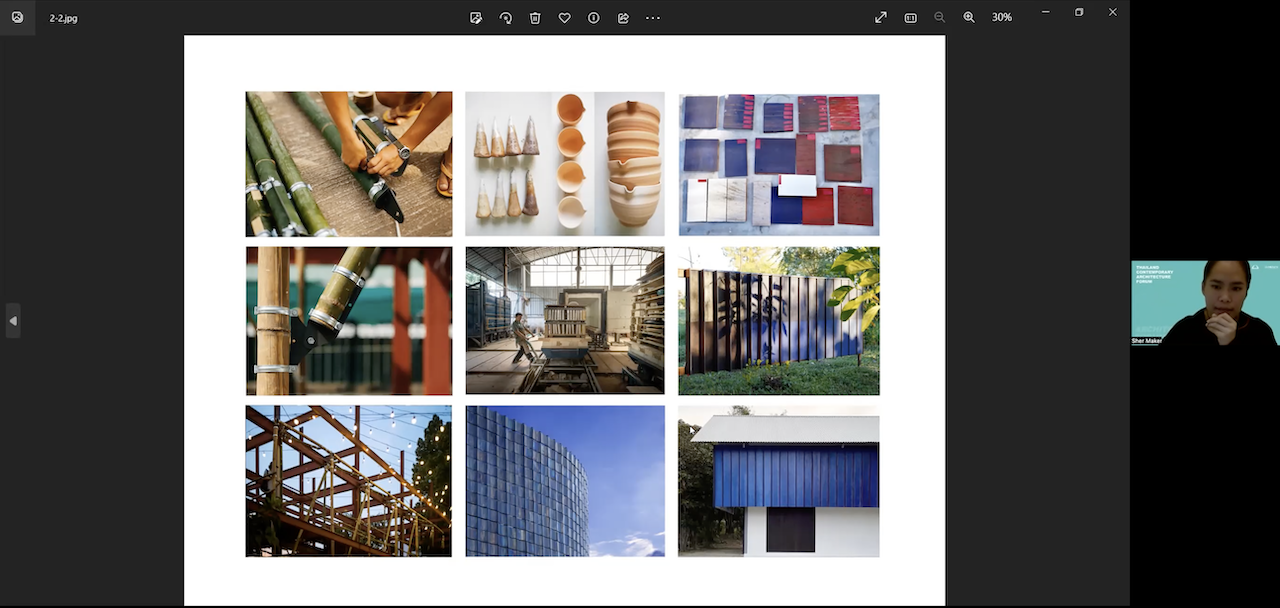 △ Patcharada Inplang & Thongchai Chansamak
Sher Maker
Architecture as Literally Life

△ Jeravej Hongsakul
IDIN Architects
Contextual Interpretation

△ Ekaphap Duangkaew
EKAR Architects
Not Only Human Architecture

△ Jittinun Jithpratugs
Plan Architect
New Challenge in Architectural Design
---
Panel Discussion
In the following panel discussion, Professor Nilda Valentin from the Faculty of Architecture, Sapienza University of Rome, Associate Professor Veronica Ng, Head, School of Architecture, Building & Design, Taylor's University, Malaysia, Nuno Soares, Head of the Department of Architecture and Design, University of Saint Joseph Macau, Architect Zhu Xiaofeng, Founding principal of Scenic Architecture Office, and Professor Wu Jiang of College of Architecture and Urban Planning, Tongji University, Editor in Chief of Architecture Asia, discussed and analyzed contemporary Thailand architecture from the points of "globalization and locality", "urban and rural", "initiative regionalism", "traditional context and modern interpretation", etc.

△ Session of Panel Discussion
---
Forum Replay
@Youtube: https://www.youtube.com/watch?v=kg5YI7hIXh8